Apps, beacons, qr-codes and NFC can dramatically increase the accessibility of museums. A user can walk and easily get information about artworks.
Let's imagine walking freely in the halls of a museum and receiving a notification on the phone when passing near an artwork we are interested in, taking the smartphone off our pocket, opening an app and listening to the audio description associated to the work. Let us imagine walking with our phone in our pocket and using the earphones as a "remote control". By pressing the play button we can get the title of the nearest works and automatically reproduce the audios. All these features are extremely useful to those with visual impairments, but if you think about it, it is extremely useful for anyone. What's better than having a guide available in your pocket, not at all invasive, which requires minimal interaction and suggests information automatically, letting your attention be directed to why we are at the museum: the artworks?
All this is not science fiction, it is absolutely possible.

First of all we need a localization system in order to be able to get the visitor's position. Being indoors, we cannot use the classic GPS, normally used outdoors (because of the lack of accuracy), other technologies are used such as Wi-Fi or bluetooth.
We can, for example, use small bluetooth devices called beacons capable of emitting an identification signal, which an app can detect and use to know the position of the visitor within the museum and get the pieces of content present in its proximity, so to propose them automatically. In the case of people with visual disabilities, we can also focus on some "advanced beacons" equipped with sound emitters that can be activated, if needed, by the app in order to help blind people to more precisely identify the objects or works of interest (similar to what happens with sound traffic lights).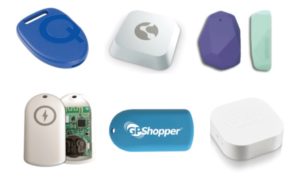 Other systems to retrieve information, simple and immediate if compared to the traditional typing of numeric codes (often not accessible to disabled: e.g. a blind person may not be able to read the code related to a work, unless they're helped) are QR-codes that can be framed with the smartphone's camera or the NFC tags that can provide an id if the smartphone is placed on top of them. These identifiers, when recognized by an app allow it to provide the user with the information associated with them.

Another noteworthy feature is the image recognition which allows the user to identify and recognize the various artworks by framing them with the phone's camera.
The potential that apps can offer us goes in fact much further. They can differentiate the content provided according to the profile of the user, for example providing simpler and more playful descriptions for children, having videos in sign language and so on.
We described the potential that apps can offer museums to improve their accessibility to visitors with disabilities and more generally to all visitors. It is up to the institutions to take this great opportunity to revolutionize and modernize a sector that still has important steps to take in this field.
For further information and to see an example of the described solution, please visit the website https://www.itcares.it/pharosuite